Kate Kataja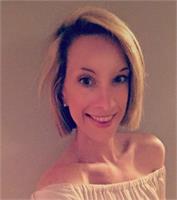 Strength. Balance. Perspective. Kindness. A shared experience. A grounding. Flight, physically and metaphorically. For me, at its core, yoga is a way to get out of my head and into the universe. Yoga is, simply, showing up for yourself."
Kate was first introduced to yoga through acting classes in college, and has been practicing for over a decade. She received her RYT-200 in 2013 through the American Viniyoga Institute and is registered with both AVI and the Yoga Alliance. She has also studied yin yoga and meditation with Josh Summers and chakra vinyasa with Coral Brown.
She aims to share the physical, emotional, and spiritual benefits she has received from a deep and consistent practice with her students, helping them to find their own mind-body connection and move toward balance and body acceptance. Her style of teaching is challenging, energizing, creative, and rooted in the belief of individualizing asana to the practitioner.
Outside of yoga, Kate is a theater director, dramaturg, and creative producer, working as the artistic associate for The Wilbury Theatre Group, and in the development office at Trinity Repertory Company, where she also teaches yoga at the Young Actors Summer Institute. Kate loves spin class, weight training, and yoga on the beach. She lives in Providence with her two fantastic fur babies.
Kate Kataja instructs the following:
Strength, Stretch & Flow: Starting where you are, build strength, increase flexibility and dive into the subtle dance of flowing from one posture to the next to the rhythm of your breath in a meditation on movement.

Our approach to flow, also known as vinyasa, is inclusive for students of all levels of ability. The teachers will let you know how you can adapt the practice to suit you. There is no need to "power through!"