Linda Sparrowe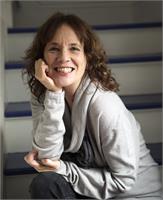 Yoga wakes us up and shows us what it means to be fully alive, truly present, and deeply connected. It gives us the discipline, tenderness, and acceptance we need to make friends with every aspect of ourselves including the parts we might not love so much, and to embrace the power we have to enact change through kindness and compassion.
The former editor of Yoga International and Yoga Journal magazine she has been teaching, talking and writing about yoga for more than 20 years. Certified at the 500-hour level through OM Yoga in New York City, she leads the Courageous Women, Fearless Living retreats at Shambhala Mountain Center for women touched by cancer.
She honors the many teachers who have had a profound influence on her life and her teaching including Cyndi Lee, Sarah Powers, Patricia Walden, Sharon Gannon, Vanda Scaravelli, and Stephen Cope. Featured as a leading expert on yoga in the film YogaWoman, Linda is the author of several books, including A Woman's Book of Yoga and Health, and Yoga: A Yoga Journal Book.
Linda Sparrowe is currently not instructing any classes.