Divya Epstein-Lubow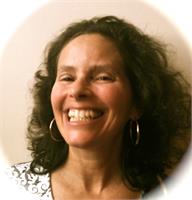 Divya says, "The essence of yoga is a joyful expansion of our best selves through the vehicle of the physical body. It is a given that we all face challenges. Yoga helps us meet the challenges by practicing being n this moment with wisdom and compassion."
Divya's joy of being in the body and her honesty permeate her teaching.
She has been teaching yoga since 1988. Her initial training was in Kripalu Yoga. In recent years, her main inspirations have been Sara Powers' Insight Yoga, Vipassanna meditation, Anusaura yoga, and Iyengar yoga.
Diyva Epstein-Lubow holds a Masters Degree in Dance Education from New York University.
Divya Epstein-Lubow instructs the following:
Hatha yoga is in essence generic yoga. Think of Hatha as the big umbrella of yoga that covers the multiplicity of yoga styles that are practiced today. Hatha classes incorporate postures (asana) and breathing techniques (pranayama) and have a goal of bringing union to the opposite qualities of sun (Ha) and moon (tha).

This moderate level class welcomes all students who enjoy a little challenge and are looking for something a bit deeper than a Beginners class, but not as athletic as a Vigorous class.