Joan Corey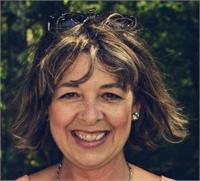 "The essence of yoga is moving away from outside distraction, toward an inner awareness of our complete being, peeling away the layers of conditioned thinking and behaviors; living in the present moment"
Joan received her certificate in Integrative Yoga with Ellen Schaeffer in 2007. She was recently invited to be on the teaching staff for the 2014 Integrative Yoga Teacher Training and is very excited to share her knowledge of Yoga to future teachers. Prior to teaching yoga Joan was a fitness instructor for over 20 years, with a BS in physical education from URI. She has taught physical education at Saint Augustine School for 13 years.

The opportunity to teach at Breathing Time Yoga feels like "coming home" as Joan grew up less than 1 mile from the studio. She currently resides in the beautiful town of Foster.
Joan Corey instructs the following:
Hatha yoga is in essence generic yoga. Think of Hatha as the big umbrella of yoga that covers the multiplicity of yoga styles that are practiced today. Hatha classes incorporate postures (asana) and breathing techniques (pranayama) and have a goal of bringing union to the opposite qualities of sun (Ha) and moon (tha).

Everyone has to start yoga somewhere. Beginners yoga is designed to take the stress out of yoga by laying the foundation for a strong and confident yoga practice. Welcome to yoga! Beginners yoga is rich with instruction and demonstration, is deliberately paced and will help you learn the basics. This class welcomes all students who are relatively new to yoga practice or simply wish to focus on the basics.




Community Yoga by donation is a low-cost class, making yoga accessible to everyone! Come join us. The suggested donation is $5 to $15 or what you can afford. No one turned away. Half of the proceeds from the class go to our Financial Aid Fund and support our low-income students and Seva volunteers in the Breathing Time Yoga Community.

Community Yoga classes are of at a variety levels depending on the teacher's preference and the students who come. All students are welcome in these classes.