Barbara Barlow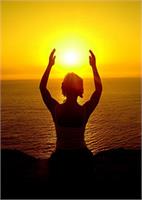 Barbara has been coming to Breathing Time Yoga since October 2013 and has been part of our seva program since May 2014. She fills in many roles, helping with reception, cleaning, and helping the Gong Bath musicians bring in all their instruments once a month.
Barbara Barlow instructs the following:
The Viniyoga method of yoga is based on the deep relationship between breath and movement, experiencing yoga from the inside out and providing a sound approach to practicing āsana (yoga postures). The deep slow rhythmic breath that you will master naturally creates a calm and focused mind and reduces stress on a physiologic level. The Viniyoga teacher incorporates safe and effective sequencing, and adaptation of poses to suit individual needs. Viniyoga classes may at times include seated breath awareness (pranayama), meditation and other yogic techniques.

This class is appropriate to those who have been practicing yoga for at least six months, or are quick learners with no current physical limitations. If not, we recommend our beginners, restorative and therapeutic classes.