Mimi Budnick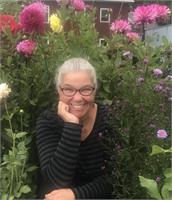 Drawing from over 15 years of work as a community organizing and an adult educator, Mimi is able to connect with her students where they are at and to create an environment that feels open and welcoming. She been practicing yoga for over a decade, and received her Vinyasa teacher certification in 2010 from Tom Gillette at Eyes of the World. Since then Mimi has taught in a variety of settings including studios, medical clinics, homeless shelters, drug rehab facilities, and schools.
Prompted by an urge to more explicitly help people use yoga as a tool for healing, from both physical and emotional injuries, Mimi recently received her certification in Therapeutic Yoga from Cheri Clampett and Arturo Peal and has studied Restorative Yoga with Jillian Pransky. Additionally she has participated in workshops about yoga's benefits for dealing with depression/anxiety and PTSD with Bo Forbes, Bessel van der Kolk, and Dana Moore.
Whether leading more challenging classes for experienced yogis, or teaching classes to complete beginners and populations with limited mobility and significant physical/emotional challenges, Mimi likes to remind her students that yoga is about more than the physical postures- that the asana are a vehicle to help bring about a more unified state of consciousness and that the real work of yoga takes place off the mat. Mimi's aim is to guide people through an experience on their yoga mat that creates space in her students' lives to connect in deeper and more meaningful ways with themselves, their community, and the world around them.
Mimi Budnick instructs the following:
Hatha yoga is in essence generic yoga. Think of Hatha as the big umbrella of yoga that covers the multiplicity of yoga styles that are practiced today. Hatha classes incorporate postures (asana) and breathing techniques (pranayama) and have a goal of bringing union to the opposite qualities of sun (Ha) and moon (tha).

Everyone has to start yoga somewhere. Beginners yoga is designed to take the stress out of yoga by laying the foundation for a strong and confident yoga practice. Welcome to yoga! Beginners yoga is rich with instruction and demonstration, is deliberately paced and will help you learn the basics. This class welcomes all students who are relatively new to yoga practice or simply wish to focus on the basics.




Restorative yoga is a delicious way to relax and soothe frayed nerves. Restorative classes use bolsters, blankets, and blocks to prop students in passive poses so that the body can experience the benefits of a pose without having to exert any effort. A good restorative class is more rejuvenating than a nap.

Gentle classes are designed to reduce stress utilizing a range of yogic techniques, such as movement, meditation and breath control, to quiet the mind, induce calm, and nourish the spirit.




Yoga with Weights will help you build strength and bone density utilizing small hand held weights, as well as yoga poses designed to strengthen your body and bones. The class will include balance poses to help increase stability, helping you to stay strong and fit as you age.




Vinyasa yoga, in which movement is synchronized to the breath, is a term that covers a broad range of yoga classes. This style is sometimes also called flow yoga, because of the smooth way that the poses run together and become like a dance. The breath acts as an anchor to the movement as you to flow from one pose to the next in time with an inhale or an exhale.

This moderate level class welcomes all students who enjoy a little challenge and are looking for something a bit deeper than a Beginners class, but not as athletic as a Vigorous class.