Liz Maynard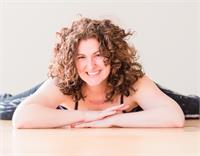 "I am passionate about yoga as a practice that is intensely personal to each individual. It helps us know our limits--and possibly shift them--while staying in integrity with our bodies, and without subjecting ourselves to pain. Above all, yoga teaches us how to be present for ourselves, and to develop internal stability in an ever changing world."
Liz started practicing yoga over ten years ago, because it seemed like the "right" thing to do. She struggled in her classes for years, feeling like she didn't belong and didn't have the right kind of body for yoga. After connecting with Forrest Yoga, she learned how to listen to her body and discover and develop its capabilities.
Liz came to teaching yoga after finishing her PhD in art history. She developed sciatica during the last few stages of writing her dissertation and decided to complete a yoga teacher training to heal her body from the long and painful hours of sitting at a desk and the emotional wounds of graduate school. She found an unexpected passion in teaching yoga and has devoted herself to sharing the practice that has done so much for her physical and mental health.
Liz Maynard instructs the following:
What is a mindful yoga practice?




We're often asked to "be mindful" in our yoga practice. This workshop provides some explanation of what the often invoked but rarely described notion of "mindfulness" means and offers some concrete tools for developing a mindful approach to asana, or postural practice. It will consist of an introduction, discussion, and a physical practice to put these tools into use immediately. Please come prepared with pen and paper if you prefer to take notes. Asana is moderate, with modifications and options geared for all levels.




$20 Advanced Registration. $25 At-the-Door

Members receive 25% off.