Liz Maynard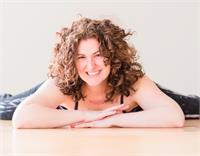 "I am passionate about yoga as a practice that is intensely personal to each individual. It helps us know our limits--and possibly shift them--while staying in integrity with our bodies, and without subjecting ourselves to pain. Above all, yoga teaches us how to be present for ourselves, and to develop internal stability in an ever changing world."
Liz started practicing yoga over ten years ago, because it seemed like the "right" thing to do. She struggled in her classes for years, feeling like she didn't belong and didn't have the right kind of body for yoga. After connecting with Forrest Yoga, she learned how to listen to her body and discover and develop its capabilities.
Liz came to teaching yoga after finishing her PhD in art history. She developed sciatica during the last few stages of writing her dissertation and decided to complete a yoga teacher training to heal her body from the long and painful hours of sitting at a desk and the emotional wounds of graduate school. She found an unexpected passion in teaching yoga and has devoted herself to sharing the practice that has done so much for her physical and mental health.
Liz Maynard instructs the following:
Sometimes called the "muscle of the soul", learn about the psoas through this embodied anatomy class!

Move through postures and explore the connections and functions of the psoas, both physiological and energetic.

Warm up, enliven, and relax this muscle that is crucial to how we move in our lives every day.

$20 Drop-in

Free for Members




This is a community practice-led hour, rather than an instructor-directed class. Sequenced poses in the Forrest Yoga style will be offered, but let your practice take shape of what feels best in your body that day!

This is a great way to start to build an independent, personal practice, while still taking nourishment from the collective spirit of a group.




Hatha yoga is in essence generic yoga. Think of Hatha as the big umbrella of yoga that covers the multiplicity of yoga styles that are practiced today. Hatha classes incorporate postures (asana) and breathing techniques (pranayama) and have a goal of bringing union to the opposite qualities of sun (Ha) and moon (tha).

Everyone has to start yoga somewhere. Beginners yoga is designed to take the stress out of yoga by laying the foundation for a strong and confident yoga practice. Welcome to yoga! Beginners yoga is rich with instruction and demonstration, is deliberately paced and will help you learn the basics. This class welcomes all students who are relatively new to yoga practice or simply wish to focus on the basics.




Change your Perspective!

Did you know inversions are a natural anti-depressant? Find the expression of an inversion that works for your body in a safe and empowering way.

This workshop will teach you the fundamentals necessary for going upside down, whether your inversion of choice is supported shoulder stand or a forearm balance. Learn how to tap into the deep muscles of the core and align the bones to help you find your balance while upside down!




$25 Advanced Registration

$30 At-the-door, day of event




Members receive 25% off.