Agi Kah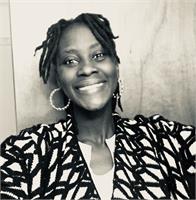 Agi spans cultures, bringing Gambian aphorisms into her teaching of yoga, without leaving the philosophy of yoga behind.
Known for her infectious smile and easy going nature, she started at Breathing Time Yoga in our Seva program in 2015, became a staff member at the desk in 2016. She graduated Yoga Teacher Training in 2017.
Agi Kah instructs the following:
Community Yoga by donation is a low-cost class, making yoga accessible to everyone! Come join us. The suggested donation is $5 to $15 or what you can afford. No one turned away. Half of the proceeds from the class go to our Financial Aid Fund and support our low-income students and Seva volunteers in the Breathing Time Yoga Community.

Community Yoga classes are of at a variety levels depending on the teacher's preference and the students who come. All students are welcome in these classes.