Paul DiSegna of Energy-N-Elements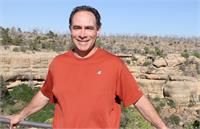 Paul is a native of Providence, RI and is following his purpose in life to teach and learn love, compassion and humility. He is a Shamanic Practitioner, Karuna and Usui Reiki Master and Teacher, and a Certified Somatic Coach.
"Sharing sound healing with others through my drum, gong, rattle and singing bowls is truly a gift since with each experience, I feel more connected to the elements and to weather. I find that I, too, receive a healing and with that come lessons in love, compassion and humility."
www.Energy-N-Elements.com
Paul DiSegna of Energy-N-Elements instructs the following:
Lay down and relax. Experience the power of the circle and the rhythm of the drum to connect with helping spirits to gain insight, release energy blocks, and promote healing.

Shamanic Journeying can restore balance and bring us into alignment with our true nature through the connection with our internal sources of power and the shamanic practice of "soul retrieval," or reconnection with the parts of ourselves from which we've become detached. In this Journey Group, we invoke the power of the elements to reconnect.

If you are new to Shamanic Journeying, don't hesitate to join! For the first portion of the workshop, Paul will give you the the knowledge of how to enter a conscious trance state and journey to non-ordinary reality to meet spirit guides.

Arrive early to secure your spot! Bring a mat to lie on and make use of our blankets and props. Bring a journal and a pen as well as openness to learning something new about yourself.

By Donation

Just $10 - $15 for this experience!