Mehera Dennison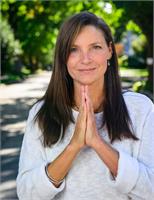 Mehera knows first hand the phenomenal power of yoga to heal physically, emotionally, and spiritually. It is her great honor to share these gifts of practice. Mehera, a mother of three promising yoginis, has an MFA in poetry, an MA in English literature, and a YTR from the Pranotthan School of Yoga through All That Matters. In her classes, she uses poetry to infuse the physical practice of yoga with the individual and collective stories of her students. She has studied reiki, flower remedies, nutrition, and is known to dabble in crystals. She also talks to angels (and they answer!). Since her first childhood trips to India, Eastern philosophy has resonated with Mehera, and it informs every aspect of her practice. Additionally, she is a huge fan of homemade peanut butter-oat-carob chip-coconut palm sugar cookies.
Mehera Dennison instructs the following:
Nourish yourself and welcome the energies of this exciting full moon!

Embody a mixture of yang and yin yoga postures. Greet the moon with a moon salutation flow then, rest in yin postures as you learn about this month's full moon energetic qualities and receive the magic of this lunation.

$20 In Advance

$25 At the Door

Members receive 25% off.




Hatha yoga: Think of Hatha as the big umbrella of yoga that covers the multiplicity of yoga styles that are practiced today. Hatha classes incorporate postures (asana) and breathing techniques (pranayama) and have a goal of bringing union to the opposite qualities of sun (ha) and moon (tha).

This class is appropriate to those who have been practicing yoga for at least six months, or are quick learners with no current physical limitations. If not, we recommend our beginners, restorative and therapeutic classes.




Yoga with Meditation takes a mindful approach to āsana (postures) and includes meditation and / or pranayama (breath practices). Yoga is at it's root, a systematic approach to creating mental clarity and focus, beginning with the mindful practice of yoga āsana to prepare the body to sit in meditation, and to train the mind to focus. Meditation is the heart of yoga.