Mehera Dennison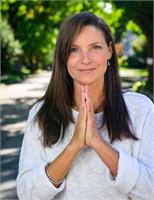 Mehera knows first hand the phenomenal power of yoga to heal physically, emotionally, and spiritually. It is her great honor to share these gifts of practice. Mehera, a mother of three promising yoginis, has an MFA in poetry, an MA in English literature, and a YTR from the Pranotthan School of Yoga through All That Matters. In her classes, she uses poetry to infuse the physical practice of yoga with the individual and collective stories of her students. She has studied reiki, flower remedies, nutrition, and is known to dabble in crystals. She also talks to angels (and they answer!). Since her first childhood trips to India, Eastern philosophy has resonated with Mehera, and it informs every aspect of her practice. Additionally, she is a huge fan of homemade peanut butter-oat-carob chip-coconut palm sugar cookies.
Mehera Dennison instructs the following:
Vinyasa yoga, in which movement is synchronized to the breath, is a term that covers a broad range of yoga classes. This style is sometimes also called flow yoga, because of the smooth way that the poses run together and become like a dance. The breath acts as an anchor to the movement as you to flow from one pose to the next in time with an inhale or an exhale.

Advanced yoga offers disciplined and challenging practices that help you to build endurance, strength, flexibility and fortitude. Our advanced classes welcome all who are seeking physical and emotional fitness.