Tami Killam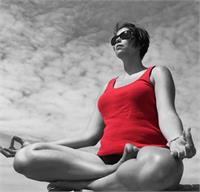 Tami is a Yoga Instructor, Reiki Master and a mother of four children who has a passion for yoga, martial arts, healthy eating, energy work and mindful living. On a journey to heal chronic illness, she discovered the power of yoga. Her personal yoga, meditation, and Reiki practice is very important to foster continued balance between body, mind and soul. Discovering yoga opened up new possibilities in Tami's life for discovering her true authentic self, grounding her in her own truth and helping her find true happiness in life's journey. Yoga taught Tami how to be still, control her breath, reconnect mind with body and become in tune with energies within and around her.
Through the quiet whispers of her intuitive heart and living yoga off the mat, Tami was brought to the path of teaching yoga to others. Yoga has been a transformational experience for Tami and she wishes to give others the opportunity to discover what yoga can be for them in their lives.
Tami completed her 1st 200 hour Yoga Alliance approved teacher training with Jessie Dwiggins of Wild Wisdom Yoga and her 2nd 200 hour Yoga Alliance approved teacher training with Erica Nunnally of Deep River School. She also completed all of my Reiki training with Erica Nunnally of Bija Institute.
Tami Killam instructs the following:
Flow and Reiki: This class takes a mindful approach to āsana (postures) and includes meditation, pranayama (breath practices), and the option for gentle touch hands-on reiki. Yoga is at it's root, a systematic approach to creating mental clarity and focus, beginning with the mindful practice of yoga āsana to prepare the body to sit in meditation, and to train the mind to focus. Meditation is the heart of yoga.

Flow: Synchronize movement to the rhythm of the breath, entering a state of flow in a dance-like practice of moving from one āsana to the next.