Fanny Rovere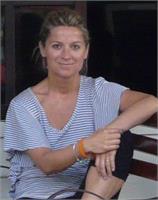 Fanny really enjoys teaching, and it shows in her classes as a quiet, focused power. She does not perform. She does not seduce students into yoga. She humbly trusts that each student may be guided into their own yoga process.
She genuinely wants students to grow into their own yoga and she guides them with both cognitive and emotional intelligence, as well as a strong intuition and understanding of the body.
Fanny has been practicing yoga for 15 years. She is trained in Dharma Mittra yoga at Grace School of Yoga, an approach to yoga that is focused on yoga as a path to self-realization. She teaches classes appropriate to the level of the students including long holds with some flow and includes pranayama, mantra and meditation.
Fanny Rovere instructs the following:
Hatha yoga is in essence generic yoga. Think of Hatha as the big umbrella of yoga that covers the multiplicity of yoga styles that are practiced today. Hatha classes incorporate postures (asana) and breathing techniques (pranayama) and have a goal of bringing union to the opposite qualities of sun (Ha) and moon (tha).

Everyone has to start yoga somewhere. Beginners yoga is designed to take the stress out of yoga by laying the foundation for a strong and confident yoga practice. Welcome to yoga! Beginners yoga is rich with instruction and demonstration, is deliberately paced and will help you learn the basics. This class welcomes all students who are relatively new to yoga practice or simply wish to focus on the basics.




Vinyasa yoga, in which movement is synchronized to the breath, is a term that covers a broad range of yoga classes. This style is sometimes also called flow yoga, because of the smooth way that the poses run together and become like a dance. The breath acts as an anchor to the movement as you to flow from one pose to the next in time with an inhale or an exhale.

Advanced yoga offers disciplined and challenging practices that help you to build endurance, strength, flexibility and fortitude. Our advanced classes welcome all who are seeking physical and emotional fitness.




Join us for challenging yet slow paced class, offering advanced asana and longer holds...




Yin helps you reduce stress, and to feel calm and centered. In this quiet Yin class, we will explore the profound energetic, emotional, and physical aspects of yoga through stillness and surrender. We will marry meditation and asana by holding postures for two to ten minutes each while cultivating mindfulness.