Asa Angel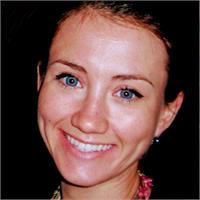 Yoga has been a part of Asa's life for nearly 15 years, first as a method of calming down a very anxious mind and then evolving into a deep spiritual practice. She is continuously inspired by the entire system of yoga and its' ability to find the truth in each one of us.
Asa completed her 200-hour training in the jungles of New York City at Loom Yoga Center. She teaches vinyasa-flow inspired classes with a strong emphasis on meditation and alignment. She also holds an Advanced Degree in the Reiki System of Healing as well as meditation training in the Tibetan Buddhist tradition which help to inform and deepen her practice.
She is dedicated to helping others find their sense of self and facilitate a path toward growth and healing.
Asa Angel instructs the following:
Taste the spiritual nectar of yoga with this class taught from the depths of authentic yoga philosophy.

Class will incorporate the full range of yoga practices: postures, breath work, meditation, self-inquiry including the use of sound and gesture to strengthen our connection to deeply transformational experiences.




Hatha yoga is in essence generic yoga. Think of Hatha as the big umbrella of yoga that covers the multiplicity of yoga styles that are practiced today. Hatha classes incorporate postures (asana) and breathing techniques (pranayama) and have a goal of bringing union to the opposite qualities of sun (Ha) and moon (tha).

Everyone has to start yoga somewhere. Beginners yoga is designed to take the stress out of yoga by laying the foundation for a strong and confident yoga practice. Welcome to yoga! Beginners yoga is rich with instruction and demonstration, is deliberately paced and will help you learn the basics. This class welcomes all students who are relatively new to yoga practice or simply wish to focus on the basics.




Community Yoga by donation is a low-cost class, making yoga accessible to everyone! Come join us. The suggested donation is $5 to $15 or what you can afford. No one turned away. Half of the proceeds from the class go to our Financial Aid Fund and support our low-income students and Seva volunteers in the Breathing Time Yoga Community.

Community Yoga classes are of at a variety levels depending on the teacher's preference and the students who come. All students are welcome in these classes.




Vinyasa yoga, in which movement is synchronized to the breath, is a term that covers a broad range of yoga classes. This style is sometimes also called flow yoga, because of the smooth way that the poses run together and become like a dance. The breath acts as an anchor to the movement as you to flow from one pose to the next in time with an inhale or an exhale.

This moderate level class welcomes all students who enjoy a little challenge and are looking for something a bit deeper than a Beginners class, but not as athletic as a Vigorous class.