Janice Markey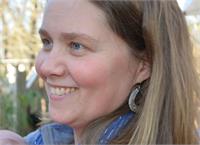 Yoga is a tool for personal transformation. In our fast-passed non-stop world, we use yoga to take a moment of quiet to transform ourselves spiritually and physically. Through yoga, we learn to see the interconnectedness of our inner and outer worlds.

Janice started practicing yoga in 1994 and completed her teaching training at Breathing Time Yoga in 2017. Yoga has helped her physically and emotionally, keeping her body and mind flexible. She is an avid ballroom dancer and enjoys volunteering for animal rescue organizations. She has her B.S. in Biology with a minor in Environmental Science.

She invites her students to meet themselves where they are. She fosters a sense of inclusion in her classes. We all come into yoga for different reasons. Come into class with an open heart and discover what works for you.
Janice Markey instructs the following:
Everyone has to start yoga somewhere. Beginners yoga is designed to take the stress out of yoga by laying the foundation for a strong and confident yoga practice. Welcome to yoga! Beginners yoga is rich with instruction and demonstration, is deliberately paced and will help you learn the basics. This class welcomes all students who are relatively new to yoga practice or simply wish to focus on the basics.




Hatha Yoga is the big umbrella of yoga that covers the multiplicity of yoga styles that are practiced today. Hatha classes incorporate postures (asana) and breathing techniques (pranayama) and have a goal of bringing union to the opposite qualities of sun (Ha) and moon (tha).




The Viniyoga method of yoga is based on the deep relationship between breath and movement, experiencing yoga from the inside out and providing a sound approach to practicing āsana (yoga postures). The deep slow rhythmic breath that you will master naturally creates a calm and focused mind and reduces stress on a physiologic level. The Viniyoga teacher incorporates safe and effective sequencing, and adaptation of poses to suit individual needs. Viniyoga classes may at times include seated breath awareness (pranayama), meditation and other yogic techniques.