Jaya Sarkar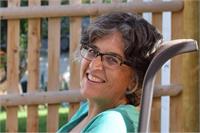 Jaya has been working in international humanitarian development over the last 30 years, and settled back in Rhode Island recently. She has practiced Yoga since 2010 and has found it to be a centering practice for mind and body as she travels frequently to remote places for her work. In February 2018, she completed the 200 Hour class with Sri Dharma Mittra at his center in New York, and is now engaged in practice teaching. Jaya was attracted to this school of yoga because of the combination of physical and spiritual practice and hopes to share this with others.
Jaya Sarkar instructs the following:
Dharma Yoga is a graceful, yet challenging form of yoga based on Sri Dharma Mittra's almost fifty years of practice of classical yoga. The practice is appropriate for students of all levels, from beginner to lifelong practitioners. It is a practice that is accessible to so many because it meets each student where they are and according to their condition. As students move through the different series, they are encouraged to go deeper and experience the practice in a meditative and spiritual way. Sri Dharma's passion for helping students go deeper in their practice with the ultimate goal of Self-realization is reflected in all aspects of the Dharma Yoga system.

This six-week course will introduce the Dharma Yoga approach, and be held Saturdays at 1:00pm from the 5th of January through the 16th of February (with no class on January 19th). These classes are appropriate for students of all levels who wish to experience the Dharma Mittra yoga practice. Each week will focus on different elements of the sequence including physical asanas, breathing and meditation. The first two classes build the Surya Namaskar and Shiva Namaskar sequences.

In essence, Dharma Yoga is a system of classical Hatha-Raja Yoga. A devotional practice that emphasizes good health, a clear mind and a kind heart. The method weaves together many teachings in order to bring all students closer to the goal of Self-realization.